29 April 2020
Senayan City IN-FINITE SPRING 2020
IN-FINITE Spring is released with 'New Year, New Kick' theme, bring Cinta Laura Kiehl, a German-Indonesian actress, singer and model in Indonesia, as the cover for this Spring edition. Her success leads her to become the face of several local and international brands up to winning several awards for acting and singing. Alongside her professional, Cinta has also achieved great success in her academics by graduating from Columbia University with honors in only three years. Over the span of her activities, she also keeps spreading the positivity about women empowerment. Get to know her at IN-FINITE Magazine Spring 2020.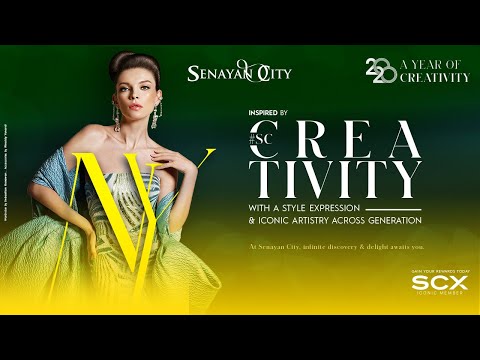 07 Februari 2020
SENAYAN CITY 2020 - A YEAR OF CREATIVITY
A YEAR OF CREATIVITY Senayan City proudly welcome new year 2020 and endeavor luxury and flagships fashion brands, first global cuisines precincts and comprehensive services. Inspired by creativity with a style expression and iconic artistry across generation, it drives Senayan City forward with fresh approaches and lifestyle experiences. Senayan City aims to be the shopping essence and style face of Jakarta while refining life's infinite possibilities inspired through elegant style and creativity.
07 Februari 2020
Senayan City IN-FINITE Winter 2019
As the end of the year is coming, Senayan City is celebrating the iconic programs – FSTVE Season. The joyous of festivity will bring joy and happiness through the festivity and warmth Christmas season with an array of events, shopping and dining experiences. Find out the amusing story of Rosalindynata Gunawan - Bakrie who get the honored to be the cover for this IN-FINITE Winter 2019. As travel issues arise during this holiday season, IN-FINITE have shared the ideas of dining experiences and food styling ideas, travelling locations, fashion tips & trick, and the essentials' stuffs to bring for creating your best holiday moment. Get more inspirations from Noi Aswari's fashion look in IN-FORM, Tyna Kanna Mirdad and Aldila Fadila's must bring beauty items in IN-ESSENCE and Nicoline Patricia Malina's tips for exotic travelling in IN-CRUISE. Get the IN-FINITE magazine at Senayan City. Infinite discovery and delight awaits you!